Wurst Festival
come have the wurst time
Saturday, June 19, 2021
Come join us for our annual Wurst Festival in Amana! The German tradition of making sausages is alive and well in the Colonies and we want to share some of the best with you. Wurst Festival was Voted Best New Festival in Iowa, so you don't want to miss it out on this celebration of everything sausage!
At the Market Barn area, in the center of the village of Amana, you will find local sausage vendors, beer, drinks, desserts, and sides. Wurst Festival features different types of brats, sausage creations, and more things meat! This year, you may even find a veggie option that will help you convince that vegetarian friend of yours to join in the fun. Try from all the booths and make your pick! Not only will there be classic brats, there will also be some creative and innovative twists on the beloved brats that will make your mouth water.
During the day, the sausage makers compete for a few coveted awards. Judges will select the winners for the Best in Wurst, Creative, etc, while YOU will select the people's choice winner, so make sure and try as many as you can before you cast your vote.
Man cannot live on sausage alone so take a break from the summer heat under our beverage tent. We will have Millstream beer, some Amana wine, and other beverages for everyone. Live music from the Bernemann Brothers will be here from 2pm-5pm at the Market Barn!
You'll also find the Wurst University here again to give you the Wurst education possible. Stop by to see Dean Weiner himself! Tuition is only $20 and you'll get a meal plan, your very own Wurst University t-shirt, and your official diploma.
The Wurst Games and Dachshund Derby
While you are with us during Wurst Festival, we will have fun yard games set up that you can be a part of. Take a minute to check below for more information on the games, and schedule for all the events you can participate in throughout the day!
Dachshund Derby registration is available on this website, turn your forms into events@amancolonies.com
1:00PM Masskrugstemmen Competition
Hard to pronounce. Harder to win. Test your strength against others in a contest of sheer will: hold a full beer stein with your arm fully extended for the longest amount of time to win the title of champion.  Registration will be $30 and includes a contest t-shirt, a Brand New 2021 1-liter Oktoberfest Stein filled with beer, and some very serious bragging rights. Contact the Amana RV Park to sign up or for more information!
11:00 AM – 4:00 PM: Yard games available to play as you like.
2:00-5:00 PM: Live music from the Bernemann Brothers!
5:00 PM – Dachshund Derby, sponsored by the Bankhaus
Watch as local Dachshunds compete to be the "Wurst Dog in Eastern Iowa" as they run as fast as they can to the finish line. Any Dachshund is welcome to enter, and registration details are available on the Wurst Festival page on our website as well as at the Visitors Center, 319-622-7622! Grand prize is a $100 Amana Colonies Gift Certificate.
Dogs must be registered to participate and are required to have proof of vaccinations. You must check in when you arrive with your pup to make sure you get a spot in the races! See the registration form for more details.
The Dachshund Derby is sponsored by the Bank Haus!
Grab a beer and a brat, then participate or cheer on your friends in the games; we guarantee you'll have the Wurst Time Ever!
Around town at the local businesses, there will also be activities, and things you will want to make sure that you see.  Check out our online brochure to see what else is happening in the villages!
Many people come out every year to the Amanas for the Wurst Festival, so make it a new tradition with your friends and family, filled with sausage, beer, music & fun!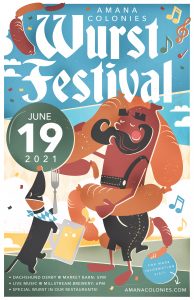 This Year's Event
To Purchase Tickets Click on the Event Below
Thank you to our 2021 Festivals sponsors!