Tannenbaum Forest
a forest of christmas trees
Fridays-Sundays from November 26th – December 19th
Step into a winter wonderland when you visit us at the Tannenbaum Forest in the Amana Colonies! Join us in the Festhalle Barn to see over 50 unique Christmas Trees, each decorated by a different business, organization, group, or family. The entire barn will be decorated for the season, and we will have several areas for photo opportunities set up. Our 17 foot German Christmas Pyramid will be front and center!
For many families the Tannenbaum Forest has become a tradition.  The Tannenbaum Forest is free to visit, however, we encourage a free will donation with proceeds benefitting the University of Iowa Stead Family Children's Hospital that's just down the road in Iowa City.
Unfortunately Santa's schedule is extremely busy this year so he will only be at the Forest for Children's Weekend, December 10th-12th.  He will be bringing one of his reindeer to visit on December 11th from 1pm-4pm so long as the weather is good.  You can also catch Santa for some cookies and stories at Hotel Millwright on December 4th and December 18th at 2pm.  Plus, if you can use our Direct-to-Santa Mailbox inside Tannenbaum Forest to make sure he gets your letter before Christmas.
St. Nick's Café will return for Tannenbaum Forest 2021! As soon as our elves set their schedule, we will update the schedule below!
2021 Tannenbaum Forest Schedule
Holiday Fun and Games Weekend
Friday, November 26, 11:00 am – 7:00 pm
Saturday, November 27, 10:00 am – 7:00 pm
Sunday, November 28, 11:00 am – 4:00 pm
Friday, December 3, 10:00 am – 8:00 pm
Saturday, December 4, 10:00 am – 8:00 pm
Sunday, December 5, 11:00 am – 5:00 pm
Children's Weekend
Friday, December 10, 11:00 am – 5:00 pm
Santa in the Forest from 11am – 4pm
Saturday, December 11, 10:00 am – 7:00 pm
Santa in the Forest from 11am – 6pm
Live Reindeer outside the Festhalle: 1pm – 4pm, Weather Dependent
Sunday, December 12, 11:00 am – 4:00 pm
Santa in the Forest from 11am – 3pm
Holiday Traditions Weekend
Friday, December 17, 11:00 am – 5:00 pm
Saturday, December 18, 10:00 am – 7:00 pm
Sunday, December 19, 11:00 am – 4:00 pm
Amana Pickle Hunt
While visiting the Colonies during the time of Tannenbaum Forest you can also take part in the Amana Pickle Hunt.  Based on legend of the German Pickle Ornament, it's said that  an old German Christmas custom was to hang a pickle ornament on the Christmas tree late on the evening of December 24th and the first child to find the pickle on Christmas morning would receive an extra gift.
The Amana version will have you looking for Pickle Ornaments in each shop and when you find the pickle in 10 shops you are entered into a weekly drawing for a $100 Amana Colonies Gift Certificate.
We will continue to monitor the state of the COVID-19 Pandemic throughout the year and we will update our COVID-19 information accordingly. This section was last edited on November 16th, 2021 according to precautions relevant at this time. We will continue to reassess and update our COVID-19 protocols.
Please note that businesses in the Amana Colonies are individually owned and operated. Each business is private property and reserves the right to create their own policies and restrictions independent from other businesses and organizations, including Amana Colonies Festivals Inc. and the Amana Colonies Convention & Visitors Bureau. If you have questions about specific businesses, please contact them directly. The Amana Visitors Center can answer general questions about the Amana Colonies and our Festivals and Events, and we would be happy to get you contact information for your favorite shops, restaurants, and lodging locations if you need it.
COVID-19 information:
We are monitoring the COVID-19 pandemic and will continue to update this section as needed. At this time, face masks are required inside of Tannenbaum Forest. Please keep an eye out for updates and feel free to call ahead with questions. While you're viewing our forest, please practice social distancing between your group and others. Social Distancing in the forest limits COVID-19 risks, but it also helps groups enjoy the trees and decorations at their own pace.
If you are experiencing any symptoms of illness, we ask that you please stay home. If you have been exposed to COVID-19 or are awaiting COVID-19 test results, please stay home. Remember to wash hands frequently and refrain from touching your face. We will have hand sanitizer and disposable face masks available at the Visitors Center and the entrance of the Tannenbaum Forest.
We are planning to have St. Nick's Café in the Tannenbaum Forest, but this is subject to change depending on serving restrictions and other public health mandates. We will post updates on our Facebook pages and here on the website.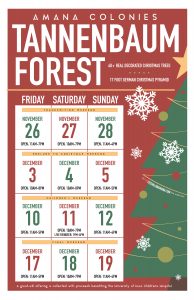 If you have any questions about Tannenbaum Forest or Prelude to Christmas, please contact Amana Colonies Festivals Inc. at:
319-622-7010 (Weekdays, 9am-4pm)
or 319-622-7622 (Weekends 10am-5pm, weekdays 10am-5pm)
You can also use our Contact Us form here on the website to email us!
Thank you to our 2020 sponsors!