Tannenbaum Forest
a forest of christmas trees
Fridays-Sundays from November 24th – December 17th
Step into a winter wonderland when you visit us at the Tannenbaum Forest in the Amana Colonies! Join us in the Festhalle Barn to see over 60 unique Christmas Trees, each decorated by a different business, organization, group, or family. The entire barn will be decorated for the season, and we will have several areas for photo opportunities set up. Our 17 foot German Christmas Pyramid will be front and center!
For many families the Tannenbaum Forest has become a tradition.  The Tannenbaum Forest is free to visit, however, we encourage a free will donation with proceeds benefitting the University of Iowa Stead Family Children's Hospital that's just down the road in Iowa City.
Santa will be returning to Tannenbaum Forest this year! Stay tuned for a full schedule as we get closer to Christmas. He will be bringing one of his reindeer to visit in December so long as the weather is good.   Plus, you can use our Direct-to-Santa Mailbox inside Tannenbaum Forest to make sure he gets your letter before Christmas.
Check Back for Our 2023 Tannenbaum Forest Schedule 
Holiday Fun and Games Weekend
Children's Weekend
Holiday Traditions Weekend 
Amana Pickle Hunt
While visiting the Colonies during the time of Tannenbaum Forest you can also take part in the Amana Pickle Hunt.  Based on legend of the German Pickle Ornament, it's said that  an old German Christmas custom was to hang a pickle ornament on the Christmas tree late on the evening of December 24th and the first child to find the pickle on Christmas morning would receive an extra gift.
The Amana version will have you looking for Pickle Ornaments in each shop and when you find the pickle in 10 shops you are entered into a weekly drawing for a $100 Amana Colonies Gift Certificate.
We will continue to monitor the state of the COVID-19 Pandemic throughout the year and we will update our COVID-19 information accordingly. This section was last edited on June 9th, 2022 according to precautions relevant at this time. We will continue to reassess and update our COVID-19 protocols.
COVID-19 information:
While you're viewing our forest, please practice social distancing between your group and others. Social Distancing in the forest limits COVID-19 risks, but it also helps groups enjoy the trees and decorations at their own pace.
If you are experiencing any symptoms of illness, we ask that you please stay home. If you have been exposed to COVID-19 or are awaiting COVID-19 test results, please stay home. Remember to wash hands frequently and refrain from touching your face. We will have hand sanitizer and disposable face masks available at the Visitors Center and the entrance of the Tannenbaum Forest.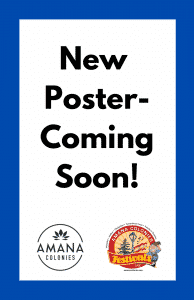 Thank you to our 2022 sponsors!