Maifest
spring has sprung
Join us for Maifest on May 6th -7th, 2023
Maifest 2023: stay tuned for updates as we get closer to the festival!
Come celebrate spring with us! Warmer weather is here and the flowers are starting to bloom.  May means Maifest in the Amana Colonies and you'll find the villages are ready for the summer with flowers and Maipoles.  It's the German tradition of celebrating spring and we carry that tradition on in Amana today.
Parade
What's a celebration without a parade?  No, it's not the Rose Bowl Parade, but it's a fun small-town tradition with a band, some floats, and a lot of fun.  The parade kicks off the festivities at 10 am on Saturday morning and is followed by what is a signature event and a highlight for many, the annual performance of the Amana Maipole Dancers.  This group of volunteers has been dancing for more than 30 years and will perform at various spots in the village of Amana over the two-day event.  Performing traditional Maipole dances and songs, they are not to be missed as their colorful dirndls, ribbons, and melodies fill the street.
Food Trucks
A more recent addition to Maifest has been the Saturday "World on Wheels Food Truck Fare".  This feature brings the different cuisines of the world to the Amana Colonies.  May Day is not only a celebration of spring in Germany but in many countries and what better way to celebrate this fact than with food?  The food trucks that we invite to the Colonies for this one day add some cultural diversity to our food line-up.  Caribbean food, pizza, ice cream and more make this a tasty part of Maifest.  And yes, we have German too, both at the Food Truck Fare and also in our sensational restaurants!
Entertainment
To provide even more of an international flavor to Maifest, the Festhalle Stage will host a wide variety of music and dance.  In past years, a troupe of Irish Dancers has been a big hit but each year brings something new. Check out the full 2023 Festhalle Entertainment Schedule.
Saturday, May 6th
11am  Maipole Dancers

11:30 – 12:30 Blame Not the Bard

12:30 – 1:30 Native Pride Dancers

1:30 – 2:30 All Natural

2:30 – 3:30 RTD Irish Dancers

3:30 – 5:30 All Natural
Sunday, May 7th
12 – 1 Blame Not the Bard

1:15 Maipole Dancers

1:45 – 3 Blame Not the Bard
On Saturday evening we recommend and great dinner at one of our restaurants and then find the live music in town and kick back with something to wet your whistle and keep your toes tap'n.
Wine & Chocolate Walk
Sunday's feature event is the annual Wine and Chocolate Walk.  Purchase a punch card and follow the trail to samples and some additional special treats.  After your card is completely punched turn it in for a souvenir Maifest glass.
Maipole Dancer Schedule: Maifest 2023
Saturday
11:00 Festhalle Barn

11:45 Brau Haus

12:15 Amana General Store

2:00 Amana Heritage Museum

2:45 Amana Meat Shop

5:30 Hotel Millwright
Sunday
11:00 Amana General Store

12:30 Amana Meat Shop

1:15 Festhalle Barn
*In case of rain, the Maipole Dancers will perform at the Festhalle Barn*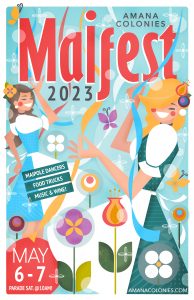 Check out the Brochure HERE!
Wanna be in the 2023 Maifest Parade? Fill out the form below.
Thank you to our 2023 Festivals sponsors!