Prelude to Christmas
a weekend of christmas celebration
December 1-3, 2023
A magical weekend with special events and food/beverage sampling in the shops, carolers on the street, and the town decked out in Christmas finery that's Prelude to Christmas in the Amana Colonies.  The streets of Amana come alive with old world charm at no time more than Prelude to Christmas. The fences and store fronts sport pine boughs, there's red ribbons fluttering in the breeze, and an occasional melody from beloved Christmas Carols in the air.
Join us for a weekend of special shopping, activities, and much more, including the annual Amana Church Christmas Cookie Walk and Holiday Bazaar. While you shop, eat, and sample, bundle up and join us at the Tannenbaum Forest to see over 60 unique Christmas trees decorated by local businesses and organizations. Throughout the Amana Colonies you'll find gifts for the whole family to enjoy. You'll find the Prelude to Christmas brochure at the Amana Colonies Visitors Center as well as in businesses throughout the Amanas. Don't forget to dress warm and bring your Christmas shopping and gift wish lists!
As we plan, we will release more information on activities and specials for Prelude to Christmas. Keep an eye here and on Facebook for updates! For more information on Tannenbaum Forest, click this link.
We will post the brochure and details about special events as soon as they are available. For updates on COVID-19, please see the Tannenbaum Forest page linked in the paragraph above.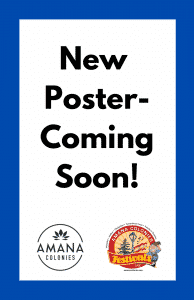 Coming Soon
If there are any updates to the brochure after it is posted, they will be listed here. Please keep an eye out for updates about Prelude to Christmas and Tannenbaum Forest. If you have any questions about the Amana Colonies, please contact the Visitors Center:
Amana Visitors Center
622 46th Ave., Amana IA, 52203
319.622.7622
Thank you to our 2022 sponsors!