Prelude to Christmas
a weekend of christmas celebration
December 1-3, 2023
Join us for a magical weekend with special events and food/beverage sampling in the shops, carolers on the street, and the town decked out in Christmas finery that's Prelude to Christmas in the Amana Colonies.  The streets of Amana come alive with old world charm at no time more than Prelude to Christmas.
Santa:
12/1 10-3:30
12/2 10-3:30
12/3 11-3
Amana Heritage Museum Caroling (12/1 6pm) Starting at museum and ending in Tannenbaum forest
Kids area in the Tannenbaum Forest includes:
~Letters to nursing home (during all forest hours)
~Letters to Santa (during all forest hours)
~Make & Take craft provided by the Arts Guild (12/8-12/9 while supplies last) Free will donation
~Ornament station to decorate the Stead Family Children's hospital Tree (during all forest hours)
Music:
12/1 Kennedy Jazz band 11am
12/1 Iowa Brass Quintet 5-7:30
12/2 Iowa Brass Quintet 2,4 & 6
Amana Pickle Hunt
While visiting the Colonies during the time of Tannenbaum Forest you can also take part in the Amana Pickle Hunt.  Based on legend of the German Pickle Ornament, it's said that  an old German Christmas custom was to hang a pickle ornament on the Christmas tree late on the evening of December 24th and the first child to find the pickle on Christmas morning would receive an extra gift.
Click the image to download an 8.5×14 inch brochure.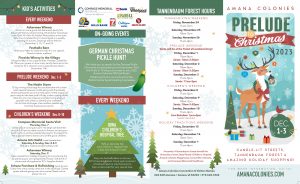 For more information on Tannenbaum Forest, click this link.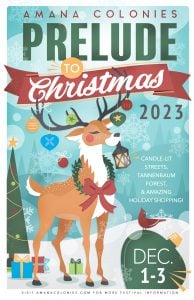 2023 Final Tannenbaum Brochure
If you have any questions about the Amana Colonies, please contact the Visitors Center:
Amana Visitors Center
622 46th Ave., Amana IA, 52203
319.622.7622
Thank you to our 2022 sponsors!