Oktoberfest
polka, smiles, laughter, brats
September 30 – October 2, 2022
Join us for Oktoberfest in the Amana Colonies on September 30th – October 2nd, 2022! Enjoy beer, live music, games, German food, and so much more all through the Colonies during this festival weekend. Make your overnight accommodations now before everyone is booked; check here for lodging options in the Amana Colonies.
Amana Colonies Festhalle
At the official Amana Colonies Oktoberfest Grounds, enjoy Amana Colonies Meat Shop & Smokehouse brats, along with pork trotters, sides, and desserts. We'll have live music from bands like Barefoot Becky and the Ivanhoe Dutchmen, Alpensterne, Alte Kameraden, and the Colony Folksingers along with beer – lots of beer. We'll host games during the day on Saturday between bands, and even our annual brat eating competition.
Admission is $10 for a one-day pass and $15 for a two-day pass. Tickets will go on sale for pre-order in August, so keep an eye out for an announcement!
We'll post our schedule of live music and games soon.
As we get closer to the event, we will update this page with festival information! Stay tuned for details.
Planning ahead? Oktoberfest 2022 is scheduled for September 30-October 2, 2022.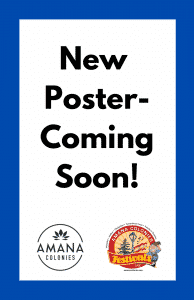 Brochure Coming Soon
Parade Registration Coming Soon
Thank you to our 2019 sponsors!