I OUGHT TO BE IN PICTURES AT THE AMANA PERFORMING ARTS CENTER
May 5 @ 7:30 PM

-

9:30 PM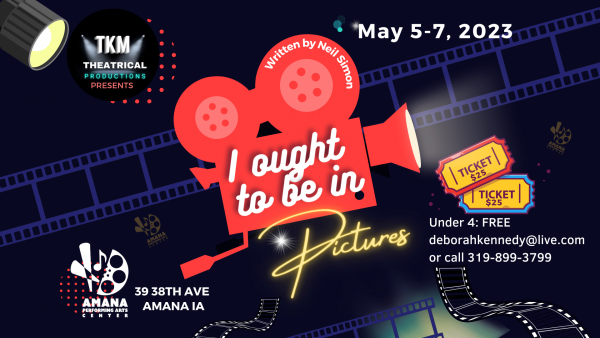 Escape with a night of laughter with I OUGHT TO BE IN PICTURES, a great classic by Neil Simon.
Herb, a Hollywood scriptwriter currently "at liberty," is surprised when his forgotten past reappears in the form of Libby, a teenage daughter who's trekked from Brooklyn with dreams of movie stardom. With Steffy, his sometime paramour, at his side, Herb decides to take another stab at fatherhood and hopefully this time, get it right.
Neil Simon creates for us characters that are so real they practically jump off the page. Underneath the play's humorous and witty dialogue is a touching observation about humanity and the lengths people will go to- to reconnect with family.
PUBLISHED REVIEWS
"Terrific […] sweet, dandy and touching […] a mature, memorable play that brings joy to the season." – New York Post
"A finely tuned theatrical blend of hilarity, honesty, directly and deeply felt emotion. Go." – WCBS-TV
*I Ought to Be in Pictures is presented thru special arrangement with Samuel French.
DATES/TIMES:
May 5-7
Friday & Saturday at 7:30pm
Sunday at 3pm
LOCATION:
39 38th Ave, Amana, IA 52203
TICKETS – $25
Email: deborahkennedy@live.com – OR
Call: 319-899-3799 – OR
Use attached ticket links below:
Related Events