Tinsmith and Metal Work
An Amana tradition from the start
Metalwork has been taking place in the Colonies from the beginning.  These artisans are keeping that tradition alive with both traditional and creative products.
A variety of crafts and skills that existed in the communal era survive today.  Some of these crafts are located in small shops that demonstrate their work and others are handcrafted in the homes of the craftspeople.  Their items can be found in some of the local shops.
The village of Homestead is home to AJ's Copper Garden where several craftsmen handcraft a variety of sculptures from copper, brass, and stainless steel for both indoor and outdoor use.  The building next to the showroom is where the work is done and you are welcome to watch the art being created.
Woodworking has always been part of the Amana culture, communal era men generally had a workbench in their homes.  This tradition continues today as you'll find smaller wooden items in many of the shops.  The Creative Colony on Amana's main street is dedicated to locally made crafts.
If you've ever seen furniture that was made in the Colonies you know the quality that handcrafting provides. The Amana Furniture Shop, also located in the village of Amana, and Schanz Furniture, located just east of South Amana, carry on this tradition.  Furniture and clocks are made on the premises and you can view the craftsmen at work.  The quality here is not like that found in most furniture stores, these are future heirlooms..
You might notice some of the green tin yard lanterns in the villages.  This is an old traditional style that our local tinsmith has reproduced.  Our current tinsmith works from his home to create these lanterns and a variety of cookie cutters, cake pans, and more.  You'll find his work at the Visitor Center, Amana Arts Guild, and the Amana Heritage Museum.
The Amana Heritage Museum, located in Amana, and the Amana Arts Guild, in High Amana, are perfect places to see many of the smaller items made by the local craftspeople.  Some of the crafts, such as hand-knit mittens, are done by residents just as they were taught by their grandparents.  The same mitten styles have been worn in the Colonies for generations.
In today's world of mass-produced products, these handcrafted items are a rare breed.  Search them out and you will be rewarded with a unique treasure.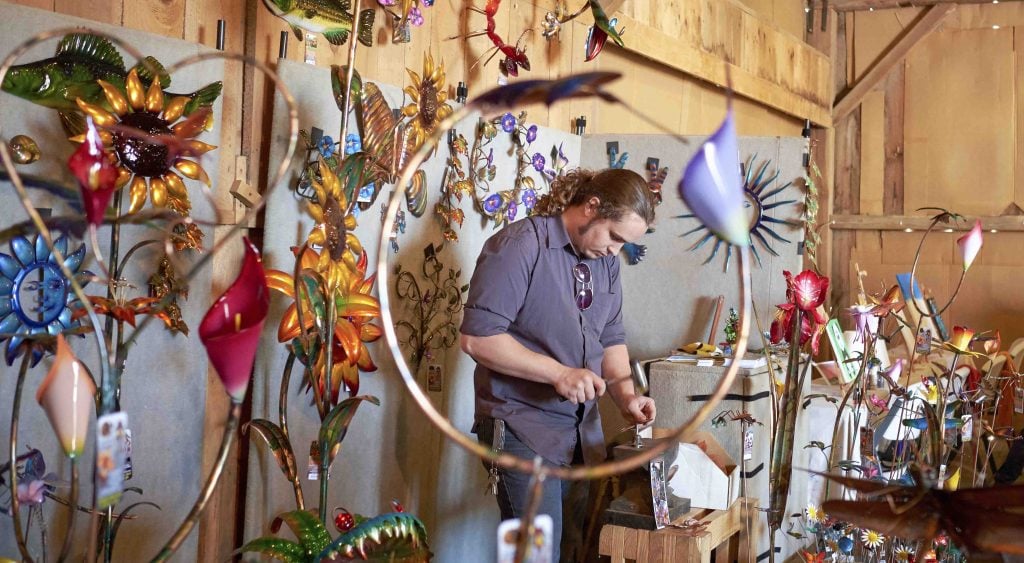 Listings for Tinsmith + Metal Works