Oktoberfest
polka, smiles, laughter, brats
September 29 – October 1, 2023
Join us for Oktoberfest in the Amana Colonies! Enjoy beer, live music, games, German food, and so much more all through the Colonies during this festival weekend. Make your overnight accommodations now before everyone is booked; check here for lodging options in the Amana Colonies.
Amana Colonies Festhalle
At the official Amana Colonies Oktoberfest Grounds, enjoy Amana Colonies Meat Shop & Smokehouse brats, along with pork trotters, sides, and desserts. We'll have live music from bands like Barefoot Becky and the Ivanhoe Dutchmen, the Colony Folksingers, Alpensterne, Die Freistadt Alte Kamerade, and more, along with beer – lots of beer. We'll host games during the day on Saturday between bands, and even our annual brat eating competition.
Admission is $10 for a one-day pass and $15 for a two-day pass at the gate. Tickets are available now! Save time and money by buying your ticket early.
2023 FESTHALLE BARN ENTERTAINMENT
Friday, September 29th
11:30am-4pm: Barefoot Becky & The Ivanhoe Dutchmen
2pm: Official Keg Tapping on stage with the Burgermeister
4:30-6:15pm: Amana Colony Folksingers
*The yodeling contest will now be part of the Folk Singers performance!
6:30-9:00pm: Die Tieffen Keller Kinder
9:30pm-Midnight: Alpensterne
Saturday, September 30th
11am-2pm: Alpensterne
12:45pm: Brezel Schmeissen contest
2pm: Brat Eating Contest
3-5pm: Alte Kameraden
6-8:30pm: Alte Kameraden
9-12pm: Alpensterne
Sunday, October 1st
11am-11:30am: Collegium Tubum (U of I Tuba Group)
12-2pm: Alte Kameraden
2:30-4:30pm: Alpensterne
CLICK HERE FOR OKTOBERFEST TICKETS!
Keg Tapping Pre-Party
Join Amana's ONE and ONLY Amana Colonies Oktoberfest Bürgermeister & his crew for the OFFICIAL KEG TAPPING Pre-Party & Parade* in the Museum Courtyard from 11am-2pm. Hops & Hotrods will serve beer and wine! Enjoy your first Brat of the weekend on us! The Keg Parade will depart down main street to the Festhalle at 1:45pm to the Keg Tapping Ceremony at the Festhalle, the Official Amana Colonies Oktoberfest Grounds. Admission is FREE to the museum all day. *Admission required at the Festhalle grounds. Tickets may be purchased at the museum from 11am to 1:45pm, including single one-day ($10), two-day ($15), and Keg Ceremony tickets including a beer from the Official First Keg ($15 and includes Friday).
Tickets for the Keg Tapping do not go on presale and can only be purchased at the Official Amana Colonies Keg Tapping Pre-Party at the Amana Heritage Museum. Only 150 tickets will be available! 
2023 Oktoberfest Parade: "Peace, Love and Polka!"
One of the best local festival parades happens right down Main Street Amana on Saturday, September 30th at 10am! Grab your favorite spot!
Shuttle Access:
Parking is limited in the Amana Colonies during Oktoberfest weekend, please take advantage of the FREE shuttle! Parking lots are located south of the RV Park fence on Friday and Saturday and over at Middle Amana Park on Saturday!
Click below for shuttle schedule/routes!
Planning ahead? Oktoberfest 2024 is scheduled for October 4th – 6th, 2024.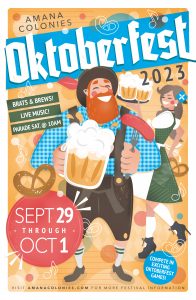 Thank you to our 2022 sponsors!