WINE Cocktail Contest at Ackerman Winery
June 25, 2022 @ 5:00 PM

-

6:00 PM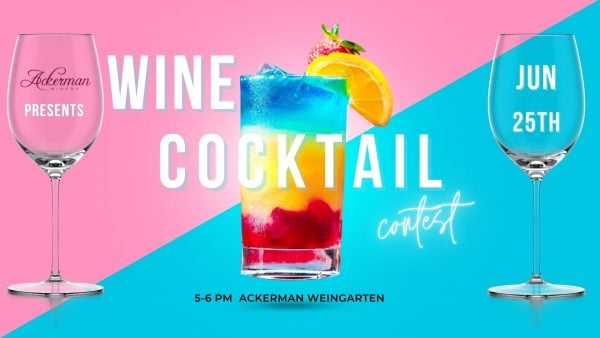 This summer, Ackerman Winery will be releasing a new WINE Cocktails Recipe Book! To celebrate, we are having a WINE Cocktails Contest on Saturday, June 25th at 5 pm in our Weingarten!
Here are all the details:
*Wine Cocktails must contain Ackerman Wine(s).
*Entries must be submitted via email by June 19th to info@ackermanwinery.com, and deb@ackermanwinery.com
Ackerman winery staff will select the top 5 recipes submitted, and will notify those contestants by June 20th.
*If selected, contestants must be present at the judging on June 25th, and bring their own mixers and supplies to prepare their cocktails for the competition. (Ackerman Winery will provide the wine, of course!)
PRIZES:
Each top 5 contestant will receive a new Ackerman Winery WINE Cocktails Recipe Book.
Winner will receive 6 bottles of wine of their choice, and their cocktail will be featured at Ackerman Winery.
So get those creative juices, (pun intended) flowing! We hope to hear from you soon!
Related Events